MARCH 14, 1926 – JANUARY 29, 2019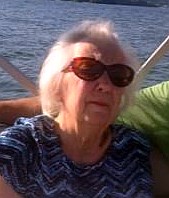 Theresa Fagan Stroh, a longtime New Fairfield resident, died peacefully on Tuesday, January 29, 2019 of natural causes. Terry was the widow of Francis Stroh, who predeceased her in 2003. Terry was born in Taunton, MA, the daughter of William and Laura Fagan. She and Frank moved from Yonkers, NY, to New Fairfield in 1972, where they enjoyed entertaining family and friends, particularly during the summer months spending time on Candlewood Lake and Candlewood Knolls.
She is survived by her children John Stroh (Sheila) of Bethel, CT, Richard Stroh (Katy) of New Fairfield, CT, James (Barbara) Stroh, New Fairfield, CT, and Joanne Colombo (Frank) of Mt. Vernon, NY. She leaves 10 beloved grandchildren and 3 great grandchildren. Terry is also survived by family in Taunton, MA including her sisters Margaret Courcy and Catherine McDermott and her brother Richard Fagan (Ellen) of Dryden, NY, and several nieces and nephews.
The family wishes to thank Regional Hospice of Western CT and her caregiver, Tina, for the kind care she received in the last years of her life.
Mass of Christian Burial will be held Saturday, February 9, 2019 at St. Edward the Confessor Church, 21 Brush Hill Rd., New Fairfield at 10:30 am. Interment will be at Mountain View Cemetery, Rte. 37, New Fairfield, CT.
Contributions may be made to Regional Hospice of Western CT, 30 Milestone Rd., Danbury, CT 06810 in memory of Terry.
To light a candle or leave an online condolence please visit www.thegreenfuneralhome.com.